Bromley design company features in the Top 100 for the first time
Annex Design Ltd is over the moon to have been listed in this year's Design Week Top 100!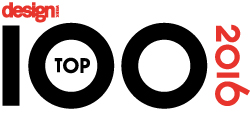 This is our very first appearance in the iconic listing from leading design magazine Design Week. The Design Week Top 100 is an annual listing, providing a detailed and holistic analysis of the financial state of the design industry.
It ranks the 100 most successful independent UK design businesses, across all sectors. The ranking is based on total fee income, while also spotlighting growth, turnover, projections and staffing levels.
"Long overnight success"
For over 10 years we have been working to build Annex Design an excellent reputation for effective design and customer service. As we like to say, our award is the result of a "long overnight success". We couldn't be more thrilled to be listed alongside some of the very biggest names in the graphic design industry.
You don't have to be big to make the Top 100!
Because we are a small team, we offer a highly personalised service. We get to know each of our clients well, becoming an extension to their own team. We are not called Annex for nothing!
Our 360° service takes you from design concept through to delivery, in the hands of trusted, experienced and creative graphic designers. We feel sure that this all-round service and dedication to our clients has helped us achieve our success. It proves that you don't have to be big to make it to the Top 100!
To find out more about the Design Week Top 100 and see the full listing, visit their website.